Posted: January 12, 2017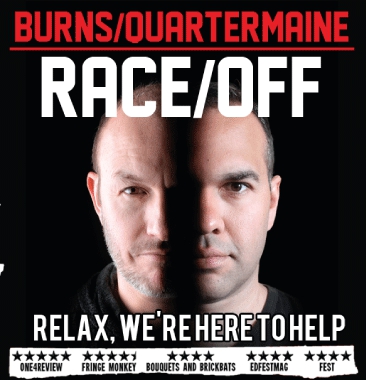 Following the success of Dumb White Guy at the Edinburgh Festival Fringe in 2016, Brendon Burns & Craig Quartermaine are off to Fringe World in Perth in February 2017 with their new show Race/Off.
The Edinburgh festival smash hit comes to Perth. Edinburgh Comedy Award winner 2007 Brendon Burns and Raw comedy finalist Craig Quartermaine bring their uncompromising critically acclaimed stand-up show about race and identity to their home town.  Australia needs to have a nuanced intelligent conversation beyond, "racism is bad" and "racism doesn't exist". They have some ideas on how this might be achieved and want to share them in this funny, punchy yet not preachy show.
Race Off is a show about personal accountability with a massive sting in its tail. As Burns and Quartermaine address some very uncomfortable home truths, hilariously and unapologetically.  This is Burns' best reviewed show in 27 years of performing all over the globe. It also introduces Quartermaine, a much needed comic voice in a pretty damn barren landscape.
The season runs from 1st – 5th February 2017.  Tickets & more information here.
"The comic who gave the Fringe the greatest ending in its history, with So I Suppose This Is Offensive Now, has pretty much done it again"  ★★★★ Kate Copstick, The Scotsman
"Brendon Burns has always loved wrong-footing his audience….he does it again in this hour about race and identity" ★★★★ The List
"One of the true comedy geniuses still performing" ★★★★ One 4 Review
"A soliloquy of humour and righteous indignation and it's wonderful" ★★★★★Young Perspective
"(a) very rarely heard point of view, which will fuel further investigations into race." ★★★★ Chortle
"Hilarious but eye-opening" ★★★★ Ed Fest Magazine